Explore the wider hospitality trends and food retail trends at the moment to see how our expertise and range can help your business in this blog post. If you're business involves working with food – either via retail or service – then Mills Display provides a one-stop shop for all your presentation, preparation, production and display needs.
We know we've got the basics covered, but it's also worth exploring some of the wider themes around hospitality and food retail at the moment to see how our expertise and range can help your business hit the latest trends.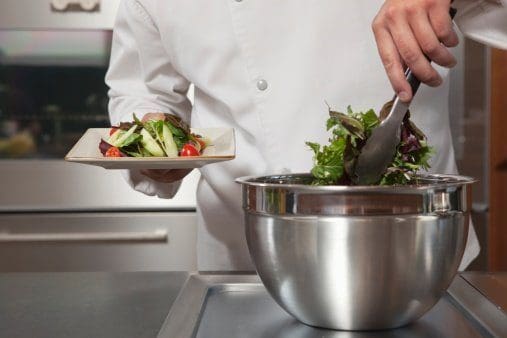 Top Hospitality Trends: Shared Space
Whether it's shared dining tables or pop-up food displays and service areas in other stores, the retail environment for food is all about the shared experience at the moment. This brings challenges around health and safety as well as merchandising and point of sale systems, meaning you have to trust a company like Mills Display to be able to deliver innovative and solid solutions.
Top Hospitality Trends: Think Local
We've come a long way from the 1970s and 1980s industrialised food model with much more emphasis now put on identifiable, locally sourced, unprocessed food which is treated with respect. As well as being able to reflect this trend in your produce and stock, retailers also have to think hard about their displays and merchandising – choosing a more traditional, rustic look such as wicker baskets, wooden barrels and crates.
Top Hospitality Trends: Health
As well as customers needing to know where their food is sourced, they're also far more likely now to care how healthy it is for them. Apart from being able to trust Mills Display to stock equipment you know is going to make the grade when it comes to food safety, we're also able to help you meet the requirements of The Food Act 2014, which will come into force by March 1, 2016. The Ministry for Primary Industries has a voluntary implementation programme for higher-risk food businesses to set up their written food control plan – you can contact Mills Display to ensure you have all the right equipment to comply.
Top Hospitality Trends: Technology
Almost every hospitality conference and show over recent years has highlighted the growing trend for hi-tech industry solutions such as mobile payments. If you're heading down this digital route, it's important to make sure you've already got your basics sorted – and using Mills Display means you can guarantee a consistent look and branding to your business.

Top Hospitality Trends: Events and entertainment
Food – both in terms of retail and the service industry – is fast becoming the major sector of the entertainment industry too with new television programmes, festivals, fairs and markets constantly cropping up all over the world. This puts even more stress on aspects of display and presentation such as durability and look – because if you're going to have chefs working front of house, then you have to trust they're using utensils and cookware which look and last as well as the food they produce.
For more information on how Mills Display can help your hospitality or food retail business contact us on +64 9 634 5962, call into our Auckland showroom at 327A Neilson St, Penrose, email us at sales@millsdisplay.co.nz or livechat with us via the website.
Contact Us
For any queries about our range of products or a custom manufacturing project, fill in the form below and we'll get back to you.