We've trawled the web for retail design ideas and inspiration from three Global Businesses as to how they have structured their store layout and design. No matter what the size of your business, it's vital to get the nuts and bolts right before you can focus on the larger retail picture. That's where Mills Display comes in with its comprehensive range of retail shop fittings, point of sale solutions, shelf displays, fixtures and portable stands.
So we've trawled the web for three global businesses who have set up shop recently to provide inspiration for how you might go about either creating a new store design or up-scaling an existing layout.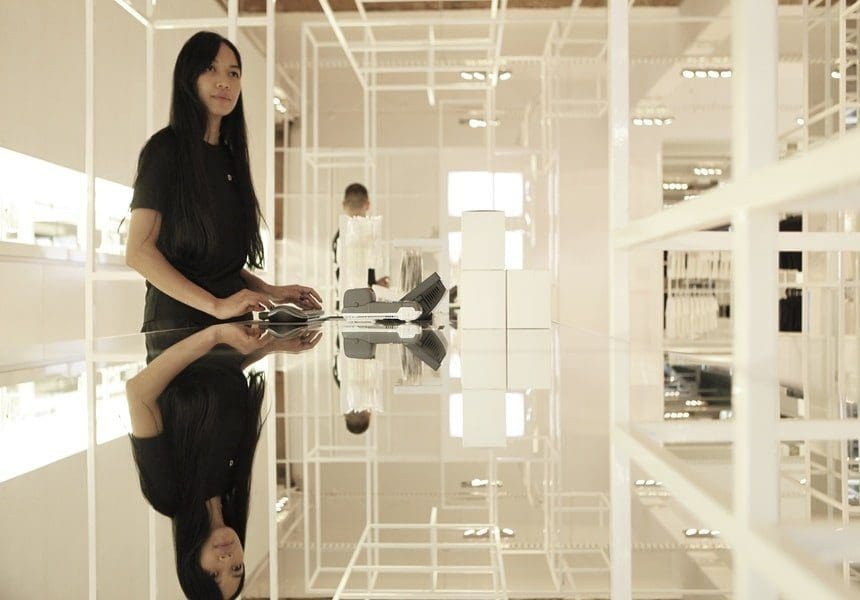 Retail Design Ideas: The Pop-up Shop
Inspiration: According to reports out of the UK, almost a third of new retailers will look to launch their businesses via pop-up shops within the next two years. This trend allows would-be entrepreneurs to test the water with a new venture as well as providing more established businesses with a method to tie in with another business, season or specific event.
A pop-up is pretty much any temporary retail space and can range from a burger van or market stall, to a display within a larger store. And to prove that this is a trend which even the world's biggest names are using, British designer Stella McCartney is opening a pop-up store on the Spanish holiday island of Ibiza to tie in with the northern hemisphere summer season.
The 55 sq m store carries all of McCartney's brand aesthetics by using natural materials (recycled spruce wood, recyclable brass rails and natural wool felt curtains) and includes an LED digital media wall showcasing her latest runway collection.
How Mills Display can help:
No matter what size your retail space covers, it's important to convey a consistent brand message – and you can best do that by sourcing all your retail display and merchandising equipment from a single company.
Mills Display has a worldwide network of suppliers who can find a solution to any challenge you throw at us – and whether you need that network to provide consistency with a larger "parent" store or to create a new look which can be up-scaled later to a permanent retail space, we're sure we can meet your requirements.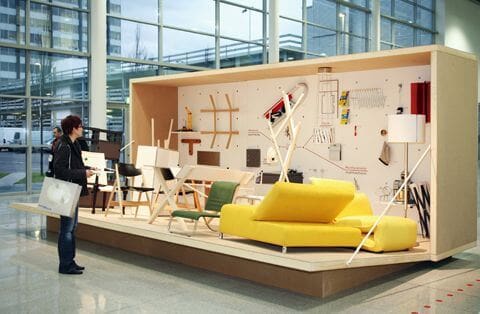 Retail Design Ideas: The Award-winning Design
Inspiration: Getting customers across the threshold can mean really pushing the boat out when it comes to cutting-edge retail design – and that's given rise to a global surge in hi-tech concept stores.
The Premier Award for Australian Interior Design was presented in May to Melbourne firm Sibling for their fit out of a new multi-sensory concept store called DUST. The idea of the shop is that it sells products which appeal to all five senses – clothing, music, fragrances (which are released into the store via vents at the entrance and rear), and Japanese teas.
The space is bright and futuristically "boxy" relying on lots of mirrored cabinetry, luminescent surfaces, animated LED screens and white architectural structures. The Australian Interior Design Awards jury said the store's success was because "the designers have created a space that celebrates the experimental journey, taking the user beyond the typical retail encounter into an immersive, sensory engagement".
How Mills Display can help:
No matter how complex and experimental your concept store aims to be, it still has to rely on the basic building blocks of retail – those simple elements of ticketing, pricing, fixtures, hooks and presentation.
Whatever stage of your design process you are at, it's a good idea to be across our whole range of catalogues to make sure that your grand theme doesn't falter for the lack of a tiny detail.
Retail Design Ideas: The Major Players
Inspiration: While the current trend for pop-up and concept stores seems to be gaining global momentum, major retailers are having to up their game in terms of merchandising, display and innovative point of sale solutions.
When it comes to brand recognition for department stores it doesn't come much bigger than Harvey Nichols – the comedy writers behind Absolutely Fabulous made sure of that – and their newly revamped store in the UK Midlands city of Birmingham is a huge 4500 square metres carrying a price tag of more than $100 million.
When you're dealing with those sort of numbers, you're in a serious land of luxury and Harvey Nichols' innovative design includes beauty rooms offering "enhancing and relaxing treatments", a loyalty app, mobile payments, digital "way finders", and a state-of-the-art 360 mirror. They've also teamed up with a Michelin-starred chef to create a stylish restaurant in the store.
How Mills Display can help:
Just as with the highly creative concept stores, it's important when you're working on a large-scale project that your grand scheme doesn't come unstuck because of the smallest details. Mills Display can help with innovative solutions to any size retail project, but can also help ensure you don't overlook basic requirements such as behind-the-scenes safety signage and basic display cabinets.
And, of course, because we can operate on a large scale ourselves – and call upon a global network of suppliers – you can be sure of a consistent and swift supply of items when you need to restock or replace.
Contact Mills Display For More Retail Design Ideas
For more information on how Mills Display can help with your retail design ideas, get in touch with us on +64 9 634 5962, call into our Auckland showroom at 327A Neilson St, Penrose, email us at sales@millsdisplay.co.nz or livechat with us via the website.
Contact Us
For any queries about our range of products or a custom manufacturing project, fill in the form below and we'll get back to you.