Health and safety signs should be a priority of any business. It keeps your staff safe, your customers safe, and ensures OSH compliance.
Adhering to health and safety rules helps your staff and your customers to remain safe.
Mills Display stock a range of health and safety signs and products.
Looking after people on site is important, not just to avoid serious harm. If staff injure themselves, it results in time off work to recover, which can result in a drop in productivity.
Caution wet floor health and safety signs.
This is a standard foldable wet floor sign that is required in any space where the general public might encounter wet floors.
From supermarkets that have spills, to office corridors that are being mopped while people are in the building. These signs alert people that the floor will be slippery.
Slips, trips and falls are the leading cause of injury in NZ, and this is one way to protect your workforce and customers from risk of harm.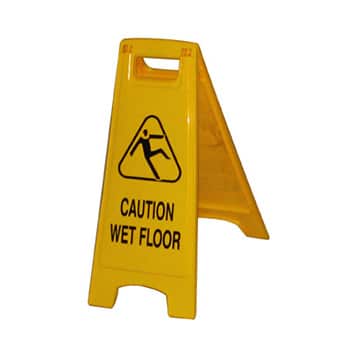 This sign is 640mm tall and 320mm wide and folds away flat. This is ideal for cleaners who may carry it in their vans or businesses with small cleaning cupboards.
Anti fatigue mats.
If you have staff that stand for long periods of time on hard, cold concrete or tiled floors, these anti-fatigue mats offer relief for their legs and back.
The addition of a rubber mat underfoot helps to avoid aching legs and feet after hours of standing on the factory, checkout or shop floor.
These mats make life more comfortable for your staff, and happier staff are more productive with fewer injuries.
This 910mm x 1520mm fatigue mat has holes in it so it's great for areas where the floor may get wet, as it allows drainage.
This could include refrigerated areas, laboratory or factory floors. It has bevelled edges to minimise trip hazards.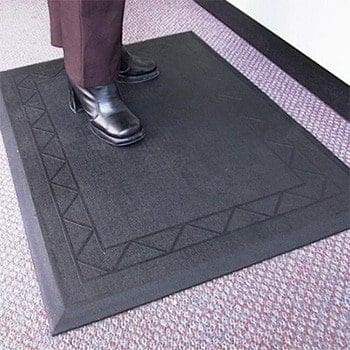 This 900mm x 1200 mm safety mat has rubber bubbles which make it non-slip, as well as bevelled edges so that no-one trips on the edges of the mat.
This one is perfect for checkout and serving areas.
This smart anti-fatigue mat is 700mm x 900mm and is suitable for areas that need a more professional look.
It still offers the cushioning that the other rubber mats do, and provides the support needed to alleviate aching legs and feet.
Anti slip yellow safety step.
This safety step provides the extra height needed to safely and easily stock shelves in retail and warehouses.
It's that extra little bit of height you need to easily reach higher shelves or awkward places without the need to reach and twist uncomfortably.
It has non slip feet so once you step on it, it's firm and secure.
We also stock a rolling mstep that will roll until you step on it, at which time it locks firmly on the ground.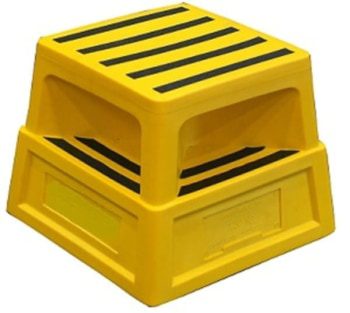 This step has anti-slip step pads on the top and on the side steps. It's bright yellow so it's highly visible and people are less likely to trip over it.
This step is 500mm x 500mm wide and 360mm high. It can support up to 120kg, enough to easily take the average person and whatever they are carrying.
Wall mounted retractable belt.
To easily cordon off aisles, doorways or alleyways. This wall mounted retractable belt secures on one wall and is stored unnoticeably out of the way until you need to use it.
This means it is located out of the way and not a trip hazard in itself.
While machinery is operating or the space isn't safe, the yellow-and-black striped belt can be easily pulled out and cordons off the no-go area.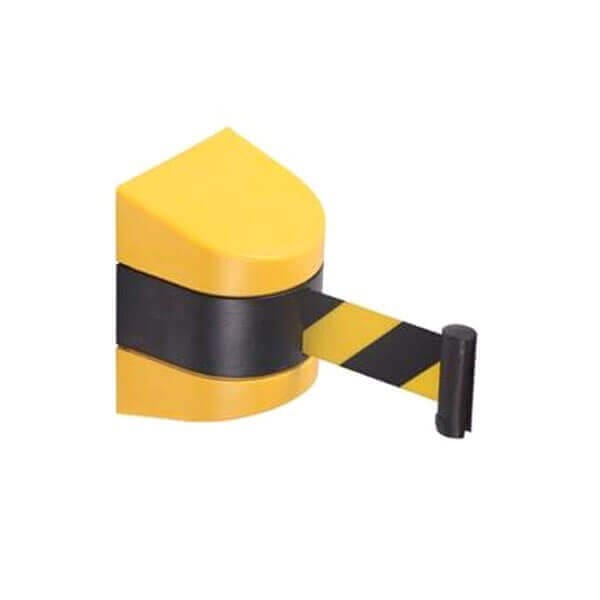 It comes in 5m or 3m lengths and can be attached by screw, magnet, or double sided tape.
Its quick and easy installation makes it an immediate solution for a space that has permanent needs for temporary blocking.
Moveable barrier posts with black belt.
For retail or other spaces where crowds occur. These stainless steel barrier posts are an easy queue control solution.
Having orderly queues helps to decrease customer wait times and increases efficiency of your staff.
They simply can be rolled or carried into place and then the 2m retractable belt slides out for a visible way to direct people into place.
Airports, retail stores, malls and entertainment venues find use in these 900m tall barrier posts.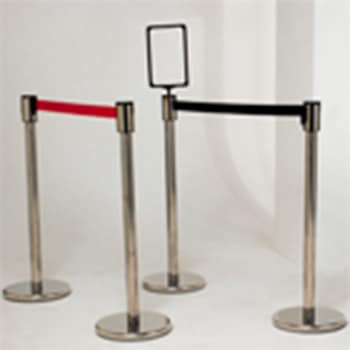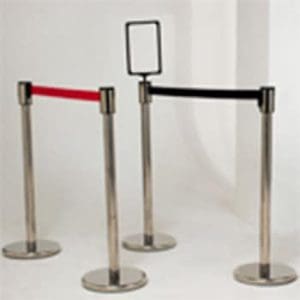 We also supply red and blue belts, just ask for prices.
Mills Display for your health and safety signs.
We stock a wide range of products, including health and safety signs, safety steps, wet floor signs and barrier posts.
Mills Display can help you meet your health and safety requirements and regulations.
Contact our Sales Team to speak about health and safety signs, or if we can help you with any other products.
Email us on sales@millsdisplay.co.nz or give us a call on +64 9 634 5962.
You can message or LiveChat via the website or call us on 09 634 5962 or visit our showroom.
Follow us on Facebook and visit our Google My Business page for our latest products and NZ Retail updates.
Also, take a look at our 8 innovative retail merchandise display ideas for you.