Dunnage racks offer a more flexible storage rack solution than other more bulky options like plastic pallets.
Dunnage storage racks primarily protect products from moisture, dirt and other damage that could occur if they were stored directly on the floor.
Quality plastic dunnage racks can support heavy and bulky products.
They are designed to be easily adaptable to a range of businesses and give you solid value for your investment.
Why should you consider using dunnage racks?
Plastic dunnage racks support a range of weights
Made of heavy-duty plastic, dunnage racks are highly durable and provide stability during storage.
You can choose from a range of differently sized models that have different weight capacities.
This way you can pick something that suits your space and your businesses' needs.
Dunnage racks easily withstand cold temperatures and weather changes
Plastic dunnage racks are ideal for coolers and freezers because they can withstand temperatures that fall as low as -14oC.
They are also often used at garden centres and petrol stations because they are resistant to most industrial chemicals.
Also water and weather changes that typically affect conventional outdoor storage racks.
They are easy to maintain
Plastic resists mould, mildew and pathogens which makes these racks ideal for food storage.
Since plastic is corrosion resistant, they last for much longer and can be cleaned easily on a regular basis with water blasting or steam cleaning.
Unlike plastic pallets, these are structured so that you can clean the floor underneath and this makes it easier to maintain your storage space as well.
Dunnage racks reduce product damage
Storing your products appropriately is essential to reduce damage and prevent product waste.
Durable plastic dunnage racks are practical options to keep your products off the ground, away from moisture and dust.
They also have structural features like rounded edges so your products don't get damaged by getting snagged on sharp corners.
This also protects your employees from similar accidents.
Plastic dunnage racks are space efficient
Plastic dunnage racks are available in a range of sizes so you can choose the number and size of the racks you need, based on your needs.
These racks can then be configured and stacked as you like so you can come up with a way to use minimum floor space.
This is what makes dunnage racks especially useful for unusually shaped rooms or small spaces.
To make transport easier, these racks are lightweight, and some models even have corner pockets that make them simple to stack. This is useful for storage and transport.
They can double up for displays
Like plastic pallets, dunnage racks can also double up to hold products for display.
Since they're easily configurable and look appealing, they work well for visual merchandising.
Why are dunnage racks useful for food related businesses?
Made of tough plastic material, dunnage racks are good at enduring the food acids and temperature changes that are common in the food transport and production industry.
In large kitchens and food production units, these racks prove to be convenient storage solutions for ingredients and other products, keeping them safely off the floor.
Thanks to the fact that they can support heavy weights, even bulky bags or boxes can be stored on these storage racks.
Space is generally a premium in kitchens and production units so it is useful that dunnage racks can be arranged in such a way that they make the most efficient use of the available floor space.
Since they can be cleaned easily and plastic is resistant to pests, pathogens and microbes, these are the preferred options for food storage.
They last a long time and can be maintained using fairly simple methods of cleaning and disinfection.
Being plastic, they are not susceptible to rust and this gives them a huge advantage over metal dunnage racks.
Some food products and ingredients need to be stored at freezing temperatures and plastic dunnage racks have the ability to withstand these temperatures.
Some are even designed with slotted tops to encourage air circulation so fresh produce or perishables will last as long as possible.
It is all these properties that make plastic dunnage racks suitable to meet food safety regulations.
Get in touch with us to make your storage more efficient
At Mills Display, we focus on providing small and big businesses with innovative and quality storage solutions.
If you're looking to upgrade your facility's storage and organisation, we can supply you with durable, efficiently designed products to do just this.
New Zealand owned and operated since 1986, our in-house manufacturing plant ensures quality.
Our investment in automation helps to provide precise and robust solutions for your needs.
Contact us on +64 9 634 5962 to discuss what sizes and options suit your business best.
Using dunnage racks is not only space efficient but reduces product waste by keeping them off the floor and protecting them from damage.
The quality plastic used also promotes food safety and more closely adheres to safety regulations.
Their versatile nature allows them to be easily adapted to a range of businesses even outside the food industry.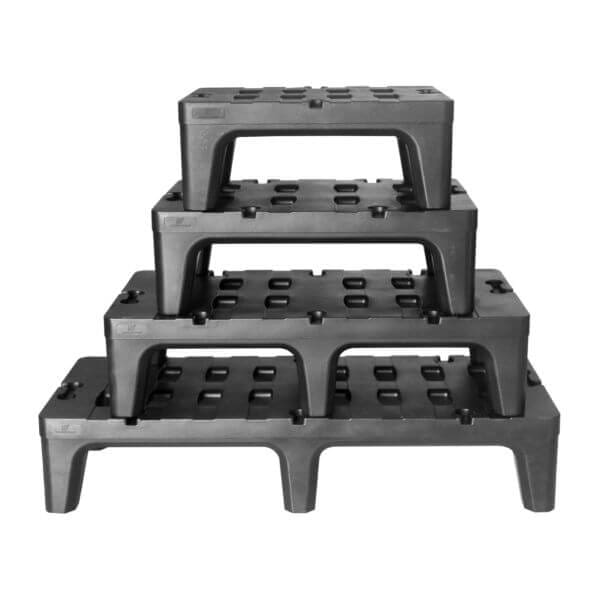 Mills Display is your first choice for Retail Display Solutions. Call our friendly team on 09 634 5962
Enquire Now with Mills Display
Contact Mills Display to help your business get a unique look by sourcing the best retail display products from around the world.
Message or LiveChat us via the website or call us on 09 634 5962.
Follow us on Facebook and Google My Business for our latest products and NZ Retail updates.
Also, take a look at our 8 innovative retail merchandise display ideas for you.