Our Team of shelf product presentation professionals can help your business find the right

product display solution.
Call us or visit our showroom at 327A Neilson Street, Penrose in Auckland.
We work alongside many New Zealand businesses to create retail display, point of sale and

merchandising products.
Our retail display catalogues and website product range can offer practical information.
But nothing beats talking with one of our retail display professionals to discuss how we can help you.
What was the problem the customer needed solving?
Recently one of our supermarket customers approached us to help with an off shelf display

issue.
This Supermarket has a display issue with their Natural Bread Wraps products.
They stock a range of Natural Bread Wrap products and were having problems displaying them on their shelving.
The product would not sit upright well and as such their customers could not see which flavours of the product were available.
How did we help this local supermarket store?
We presented a product to improve the presentation of the Wraps.
After speaking with our customer I went away to look at what options we had to help them.
The best option we came up with was our Pie/Wrap/Pita Bread stand which could be use with multiple products.
This product would fit well on the shelf space they had and could be used for a variety of products. I sent images and dimensions of the stand to our customer and they thought  looked like a viable option to trial.
What was the outcome of the shelf product presentation trial?
We sent out some stands for our customer to trial and asses their feedback. This Supermarket

customer tried them with some of their Natural Wrap products and Pita Breads.
Our customer was pleased with the improved display of the products and how easy they were

to use and implement.
They presented very well and the feedback from their customers was that they found it easier

to shop the Wraps and Pita Breads and find the flavour/variety they wanted.
Our customer has since ordered more stands and are using them widely in those categories.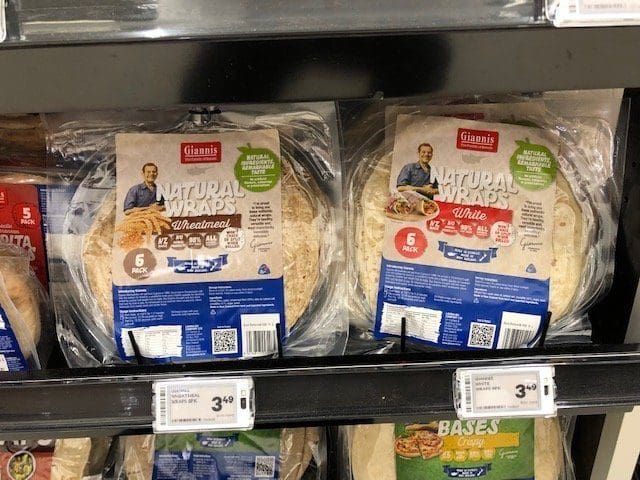 Enquire Now with Mills Display
If you would like Mills Display to help your business achieve a new look or enhance the way

you present information please get in touch!
You can message or LiveChat via the website or call us on 09 634 5962 or visit our showroom.
Follow us on Facebook and visit our Google My Business page for our latest products and NZ Retail updates. Also, take a look at our 8 innovative retail merchandise display ideas for you.
Contact Us
For any queries about our range of products or a custom manufacturing project, fill in the form below and we'll get back to you.