Once upon a time, check-out assistant and cash till was all to expect from point of sale trends. But as we stare down the barrel of 2016, it's becoming more and more important to make the most out of the opportunities that POS brings.
The biggest point of sale trends by far is digital POS with ABI research. This declares that by next year 85% of Point of Sale Trends terminal shipped worldwide will support contactless payments. This is a major move which ought to benefit stores which turnover a large number of small-value sales. It's also important for stores which want to shift customers through POS as quickly as possible.
More data from Juniper Research also claims there will be more than 1.2 billion smartphones shipped worldwide by 2017. This will include digitally-enabled payment solutions such as Near Field Communication (NFC) or contactless technology.
How to adapt your business to the Point of Sale Trends
So, as your POS changes, how can you adapt your business to reap the rewards which technology brings?
Flexible systems:

Customers now demand a crossover between their bricks-and-mortar stores and their online experiences. A key component of this is that people who know that a purchase can be just a click away aren't content to wait in queues. Furthermore, they're used to fast payments using touch-and-go card technology. Mobile payment systems allow retailers to decide on how flexible they need their POS to be. Whether they can use tablets or mobile devices to take payment systems to the customer.

Marketing opportunity:

Anyone who has bought a glossy magazine or a packet of mints in a supermarket knows the power of marketing and display at the point of sale trends. But location marketing technology such as iBeacons allows you to target customers whose mobile devices are receptive to transmitted information. This allows you the chance to develop offers or simply make contact with customers in real time. Also, your POS is still the ideal situation at which to grab them.
Data:


Your point of sale system needs to be more than a money collection system and an area which offers the chance to market to your customer. It's also your primary touch-point with your customer. It is your best chance to gather data on the type of customer you attract and what they think of your store. From the smallest business having a suggestion box through to a major company gathering sales data. It's vital you make the most of your POS. Working with this data efficiently will allow you to keep track of stock. It also determines point of sale trends within your business.

Measurements and analysis:

It's a fundamental principle of business that data is only as useful as the tools you use to analyse it. It's all very well gathering a huge database of clients and customers, but you have to use that database wisely. Ideally cross-referencing customers with their purchasing trends and dealing with them on a personal level. Equally, keeping track of your sales may simply allow you to keep on top of your stock levels. However, why not expand the analysis to show which marketing campaigns are working well and which messages, displays and retail goods are making their mark with which types of individuals. Point of sale trends has always allowed you to see general trends. Still, the focus over the past 18 months and heading into 2016 and beyond will be to personalise those trends. It's also important to understand your individual customers and refine your messages to those which have most impact.

Promotion of inbound marketing:

Marketing trends are moving away from solely using outbound strategies such as emails, cold-calling, face-to-face meetings and traditional media to involving more and more inbound marketing. This involves your business using its experience to become an authority on its chosen specialist field. This requires inviting people to visit its website or to events within store which promote that topic. If you publish quality content, those people who read it are likely to return for more. Although they might not make a purchase every time – they are likely to think of you whenever they do want to make a purchase. This type of content – infographics, how-to guides, recipe cards etc – work particularly well online but they can also be created to work instore at your point of sale. This has a two-pronged advantage in that your regular and occasional customers are made aware of your online presence. It's also reinforcing your authority in your chosen area exactly at the point at which your customer is making their purchase.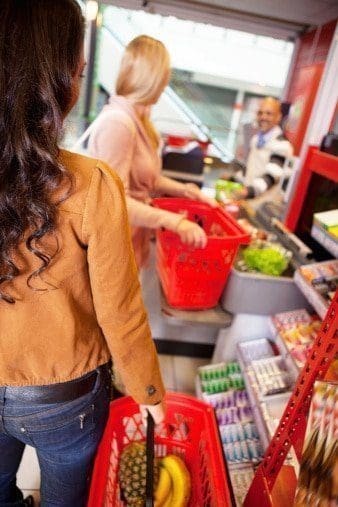 Digital POS innovation:


Bricks-and-mortar stores are fast fighting against the speed and functionality of online shopping by adapting digital point-of-sale highlights to their store experience to create the type of "destination shopping" which keeps people returning to their shops. Examples include loyalty points for using POS apps in-store; payments via tweets; video walls displaying modeled clothing purchases; smartphone self-checkouts; product information downloads to correspond with purchases; price-matching apps tied to shoppers' selections; quick-and-easy charity donations at POS.
For more inspiration about how Mills Display can help customise your point of sale system to make the most of new technology, email us or talk to one of our salespeople on Live Chat. Also, take a look at our 8 innovative retail merchandise display ideas for you.
Enquire Now with Mills Display
If you want Mills Display to help your business get a unique look by sourcing the best retail display products from around the world, message or LiveChat us via the website or call us on 09 634 5962.
Follow us on Facebook and Google My Business for our latest products and NZ Retail updates. Also, take a look at our 8 innovative retail merchandise display ideas for you.
Contact Us
For any queries about our range of products or a custom manufacturing project, fill in the form below and we'll get back to you.