No sooner are retailers over the Christmas, New Year and back-to-work-and-school rushes. The whole cycle of annual marketing and merchandising campaigns starts up again. The first major event, Valentine's Day, has been and gone, meaning the next important date for small business calendars is Easter. Which stretches from Good Friday on March 30 to the Easter Monday public holiday on April 2nd.
Traditionally Easter is a family-orientated holiday which in the Northern Hemisphere heralds the start of Spring. Therefore celebrated as the first holiday of the year connected with outdoors activities and good weather. In New Zealand, Easter still carries all the significant themes of family, Easter eggs and hunts, the Easter bunny, and, of course, the Christian festival. Celebrating the crucifixion and resurrection of Jesus, on which the holiday is based.
But because New Zealand is heading towards autumn at this time of year (Daylight Saving ends the previous weekend on March 25th). Retailers are able to draw on traditional Northern Hemisphere themes for their merchandising and displays. As well as pointing their customers towards products more suitable to autumn and winter. So to make sure your small retail business has an egg-sellent Easter (sorry for that), here are a few Mills Display tips and ideas to attract customers and transform your store.
1. Be prepared and start early
Your planning for specialised displays and Easter-specific items should be under way already – plenty of stores already have hot cross buns and Easter eggs for sale and the sooner you get them on the shelves the sooner they'll end up in shoppers' baskets and trolleys. The same goes for any displays you're planning – make sure you've already got or ordered additional signage, props or display cabinets before your Easter stock arrives.
2. Plan and create a window display
The first impression your business makes is via your shop window so it has to reflect both what you have in stock and the type and style of business you run. Some retailers might choose to run a religious theme over festivals such as Christmas or Easter but the more typical theme – even in the Southern Hemisphere – is centred around spring using themes of Easter eggs, the Easter bunny, egg hunts and flowers.
3. Staging and styling your shop window is an artform but some golden rules include:
Tell a story rather than simply display your products (eg take elements of an Easter egg hunt and create "hidden" items as part of the display.
Don't clutter the display and be clear with you message (if you have an Easter sale, make it very clear)
Be bold and use bright colours, strong lines and eye-catching props and products to attract customers.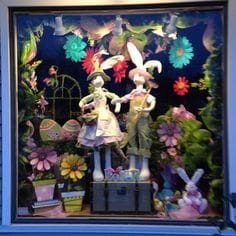 4. Think about customers' buying patterns before the long weekend
New Zealand trading rules over Easter might mean that your business isn't able to open through the weekend so it's important to stock up on items (especially food and drink) which people buy in bulk ahead of Easter Sunday. Long-weekends are also traditionally times when Kiwis do work on their homes and gardens or get away to baches and holiday homes – you might want to theme your Easter weekend displays along those lines too.
5. Devote an area of the store for Easter products
If you are using Easter as the reason for a large merchandising campaign, gather all the related products into one area of the store so customers don't have to work too hard to make decisions. You might be using Easter to sell chocolate and buns, DIY products or fishing gear, or you might run an end-of-summer Easter sale – but if it is all tied to one campaign, it makes sense to devote a specific part of the store to how you display it.
6. Choose merchandise which points towards family
Overall, Easter is a family holiday typified by presents (mostly chocolate, admittedly) for the children, large get-togethers over meals (possibly the last time to crank up the barbecue before Daylight Saving ends), and journeys to visit relatives or the family bach. When you're merchandising your store – even the areas not designed just for Easter-related products – consider extra stands or strip clips which push related items for family meals, gifts or travel. High-volume retail periods such as Easter ae great opportunities to cross and up-sell products.
7. Use Easter as a marketing and community opportunity
Easter is the ideal season to run community or family-minded events and to reward customer loyalty. You can promote your displays by bringing in entertainers or arranging themed competitions and by promoting your business through social and local media. And, remember, whenever you are engaging with new or familiar customers, it's an opportunity to get feedback and information from them – and that data is vital to help drive your business forward.
8. Keep track of your sales data to help prepare for next year
Take photos of your displays and keep notes on how you planned this Easter campaign. You'll be able to compare this data and sales data both year-on-year and alongside other seasonal marketing and merchandising campaigns to see what works and how your displays and products can be improved.
Enquire Now with Mills Display
If you want Mills Display to help your business get a unique look by sourcing the best retail display products from around the world, message or LiveChat us via the website or call us on 09 634 5962.
Follow us on Facebook and Google My Business for our latest products and NZ Retail updates. Also, take a look at our 8 innovative retail merchandise display ideas for you.