Pay by phone technology is changing point of sale display marketing. With advancing pay-by-phone or device technology, businesses need to rethink their point-of-sale terminals, signage and displays. When newspaper headlines trumpet a time when shoppers in New Zealand will be able to leave their wallets at home, it's clear that there are big changes ahead for retailers.
2017 has seen a large increase in the number of customers who have taken up banks and mobile companies' new pay-by-phone technology, heralding a revolution in how stores approach their point-of-sale display, terminals, and signage.
Free apps such as Apple Pay, Android Pay, and ASB Virtual let shoppers use their phones just as they have become accustomed to using their contactless cards, creating a more seamless buying experience. Although big-ticket sales still require the shopper to input a pin number or thumbprint, for purchases less than $80, users don't even need to unlock their phones meaning that the actual moment of buying has become less interactive with staff.
While retailers get to grips with the new technology, this fresh way in which consumers handle and part with their money will have a big impact on how bricks-and-mortar stores think about layout, display and signage within the retail environment.
So what should New Zealand retailers be considering in the light of this point of sale display revolution? And how can Mills Display help create a store environment in which the modern shopper is both comfortable and informed?
The Phone is now integral to the Shopping Experience
For years now, shoppers have become more and more used to researching potential purchases while out shopping by using their mobile devices. Price comparisons, explanations, alternatives and detailed information is now at their fingertips rather than being found via a conversation with staff or by reading information on packaging and shelving.
By adding the action of payment to the long list of a phone's uses, technology companies have made the mobile device (and hence social media sharing and online searching) integral to the shopping experience – and retailers need to tap into this experience to keep shoppers interested.
Displays and signage can now let shoppers know where to search online for product information.
Display units can group together products to suggest potential uses (e.g matching clothing, menu items or interior design and furniture) to promote online sharing.
Point of sale is now a swifter experience
Having a single station for payment and information worked into a store layout as the final piece of the shopping experience makes little sense when point of sale display time is such a minimal exchange – especially in stores where customers are expected to browse and test products before making their purchase decision. Having information stations throughout a store's layout or having staff on hand to act as ambassadors for the stock is now more important than having them in store just to take payment.
Point of sale display and signage need to talk more about information and testing products to give shoppers a better idea of what is on offer.
The Way shoppers are controlled at POS has changed
Even in supermarkets or smaller high street-style stores, the speed of the final buying transaction has increased to the level where shoppers are spending far less time in queues. Self-service checkouts combined with contactless payment via cards or phones create different challenges for queue control and a different way of thinking about the shoppers' choice between baskets and trolleys.
Fast and self-service point of sale display systems require extra attention for bagging areas, basket display stands and queue control.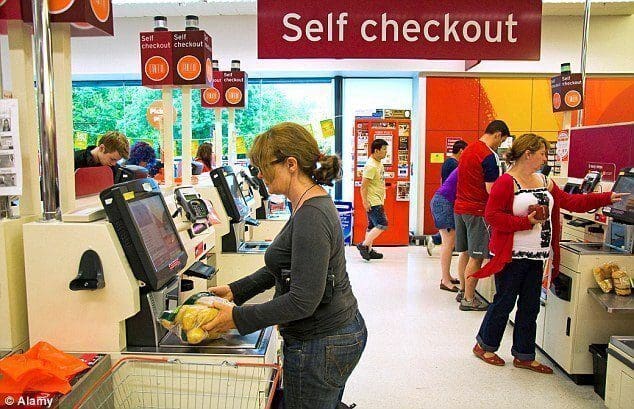 Marketing and Display at POS has changed
By moving through POS faster, there's also less time for shoppers to browse point of sale display marketing which means many of the types of products usually found here can move to end-of-aisle or other high-traffic locations.
Traditional point of sale display solutions can be moved to other high-traffic areas of the store – such as information counters or departments where shoppers queue for personal service (eg. deli counters).
Your customers' profiles could change depending on how they pay
A BNZ spokesman talking about their Android Pay technology that was launched in December told the New Zealand Herald that more than 90% of contactless transactions were for $80 or less and that 40% of new users were aged between 20 and 29. In short, although this "wallet-less society" is likely to become the norm, at the moment it is very much seen as a convenient way to pay for a younger generation of consumers. Depending on their regular customer profile, retailers therefore may need to consider a two-tier Point of sale display system that caters to both traditional and younger tech-savvy shoppers. You can also consider marketing displays tailored to the different customers depending on how they choose to pay.
Signage and displays need to clearly communicate payment methods throughout the store to avoid confusion at point of sale.
Alternative point of sales display systems can be designed to target specific customers.
Stay up to date with the latest Point of Sale Display Trends
If you want to keep up to date on our new point of sale display products, items and systems, or you're interested in finding a customised solution to a particular point of sale display trend or challenge, you can get more information by downloading a catalogue, emailing us at sales@millsdisplay.co.nz, use our online contact form or by talking to one of our salespeople using the Live Chat in the bottom corner of your screen.
Contact Us
For any queries about our range of products or a custom manufacturing project, fill in the form below and we'll get back to you.