Customers are now so attuned to seeing characterful and innovative food display solutions. On the countless TV shows devoted to both food and travel, that it's become vital to any food retailer to come up with different ways to attract their attention. Of course, the basics of health, cleanliness and easily understood signage and labelling still apply. However, you can really push the boat out when it comes to finding adventurous. Also, by coming up with surprising ways with food display solutions to produce in your deli counter.
8 impressive Food Display Solutions
1. Be bold and showcase new on-trend produce:
TV shows like Masterchef and US baking shows have a huge following in New Zealand. This means you have to keep an eye out for what's hot and on-trend around the world. Equally, food and travel shows featuring celebrity foodies. Examples are Rick Stein and Peter Kuruvita. They have introduced customers to cuisines from the likes of Korea, the Pacific Islands and Sri Lanka.
Innovative food display solutions can reflect novel dishes and ingredients from recent shows. Furthermore, they help customers feel part of the total food-as-entertainment experience. For example, a recently finished Masterchef show had episodes featuring contestants having to name many different types of herbs. Also, they have to use peculiar NZ ingredients in a dish. Why not use this as the basis of a NZ-themed deli display?
2. Use skilled staff to become a food authority:
The growth of foodie culture has led to a rise in customers who see themselves as self-taught chefs and "experimenters". These customers soak up as much information as they can and really respond to advice from authority figures. Your deli counter is the ideal place for them to find advice so don't hide food preparation away behind the scenes. Have your staff on hand to show off their knife skills and creativity; give them the authority to answer questions and offer advice; have them skilled to be able to hand-make deli items to order if required. For example, pre-prepared salads are always popular deli items. However, why not have staff on hand to supply recipes to interested customers and then have the ingredients nearby for purchase separately? Engaging the customer at the counter is a great way to both instil loyalty and provide the chance to upsell items.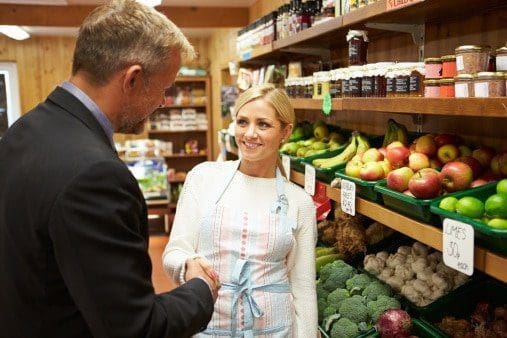 3. Push total experiences:
Food customers – especially those at deli and produce counters – enjoy thinking not only about ticking items off their shopping list but also about working out how they're going to use their purchases. When you're grouping items or writing signage consider telling a story about how that produce might be used. Good examples in New Zealand – especially at this time of year – are grouping items which might be good for a picnic suitable for an Easter trip to the beach, a big family get-together, or planning a long-weekend visit to the bach.
4. A "market" theme can bridge a number of different cultures:
Almost all food and travel television programmes these days include a visit to a typical market. There you can see how people buy and sell produce in different parts of the world. The idea of showing this is that it helps construct a narrative in the viewer's mind leading up to the recipe. The actually cooking and eating part of the show – and the human brain is actually hard-wired to find storylines (especially completed storylines) is particularly attractive. Organising food display solutions to show off foods which go together geographically is a good way to start this storytelling process. This means you can start to inspire customers' creativity right from the display cabinet.
5. Make use of sampling stations:
The foodie customer is especially attracted to the whole "hands-on" experience. Predominantly with new or interesting produce and ingredients. So, it's important to give them a taste of what's on offer. Their inspiration may have come from a recipe book or a TV show. However, it can also be boosted by how you organise your retail display and then clinched by testing flavours. And samples don't have to work alone. Try testing out customers' tastebuds with different combinations, or food-and-drink matches, or innovative preparations of familiar ingredients. These sampling stations are also ideal places to bring in guest-chefs, producers or suppliers. If customers become used to visiting your store to discover new tastes, skills and methods, they're more likely to see you as an authority in the food industry; not just the place to buy ingredients.
6. Guide choices with matches and recipes:
Use signage and display to let customers know which wines to serve with different ingredients. Also, try to supply recipe cards and booklets to promote new or promoted items. Even a sign with a recipe or "match of the day" creates intrigue in the customer's mind. This gives your deli counter a sense of authority.
7. Use tickets and display signage to tell stories about sourcing:
The more knowledgeable customers become, the more they want to know about the source of what they're putting in their shopping basket. Particularly when it comes to food. Not only is there a food miles, ethical sourcing, eco-friendly aspect to this information, but it also pre-arms them with the information to tell those they're cooking for or feeding where their food originated. And, again, foodies really like their story-telling. Cheeses have traditionally been sold with information about place of origin. Still, there's no reason why you shouldn't be able to do the same with all sorts of fresh produce. And if you can show food display solutions with a story which goes from farm gate to deli counter, you've already started a story in a foodie's mind.
8. Consider added attractions:
With so many different types of food store vying for attention – and the customers' dollars – you can gain an edge over the competition by offering an alternative shopping experience. In-store dining, floral displays, live music, events which show off favoured or new suppliers and producers are all ways in which you can theme your food display or deli and produce counters to specific times of the year or to highlight specific ingredients. More and more customers see food shopping as an outing. You can play to this trend by offering them a destination as well as a store.
9. Personalisation and customisation are the new freshness and quality:
Throughout retail, customers are demanding a more personalised experience. This is something that hi-tech and online retail can respond to easily. Nevertheless, that instore food presentation and retail is fast catching on to. Freshness and quality, of course, are primary sales points (and a big advantage over online shopping for food) but a store which offers personalised butchery, preparation, sourcing, recipe ideas, planning for large groups or specific events, or themed educational or display events can gain a winning edge when it comes to a hands-on bespoke service.
For more inspiration about how Mills Display can help transform your deli counter or produce display, download a catalogue, email us or talk to one of our salespeople on Live Chat.