From cafes to supermarkets, delis to bakeries, you need to label your food. There are plenty of ways to create attractive food displays, and Mills Display can help.
Whether it's loaves of bread cooling on the rack, custard squares on a counter, or a row of salads behind glass in a deli, there needs to be labels. Your customers need to easily identify what they are looking for, see the origin and allergen information, and understand the pricing.
Because every type of display has different limitations, there are a huge range of food labelling options. And once you've printed the label, you need the best way to display it so it's stable, secure, and easy to see. You could be losing sales without even knowing it—some people will simply walk off rather than asking for more information.
Table stands
For displaying food, these low table stands are perfect. They hold menu cards and price tickets in place without obscuring the food.
This 35mm D base style table stand is a popular option across NZ. Easy to clean, stable and perfect for café display cases or deli counters. Made from robust stainless steel, it can be put in the dishwasher to be cleaned as required.
This 80mm tall D base harp table stand helps your labels stand out from the crowd. Taller than the 30mm cousin, it's better for use when there are rows of food containers that are staggered, and you need the extra height in the back rows. It can also be used to hold table numbers.
This ring-style stand is 50mm high, with a D style weighted base. Sturdy, easy to clean stainless steel, and low so the label doesn't interfere with the food display. It can also be used to hold table numbers or display small DLE-sized menus on tables.
For pricing meat, cheese, baked goods and salads, these ticket pins are an economical and easy solution. These stainless steel 20mm ring cardholders have 25mm spikes which stick securely into food items. No knocking over stands or worrying about missing price tags.
If you need cardholders that clip onto a surface, these hinged ticket holders are ideal. Easy to clip onto horizontal and vertical surfaces, they will easily attach to trays, bowls and shelves. These are sturdy and keep your labels where they need to stay.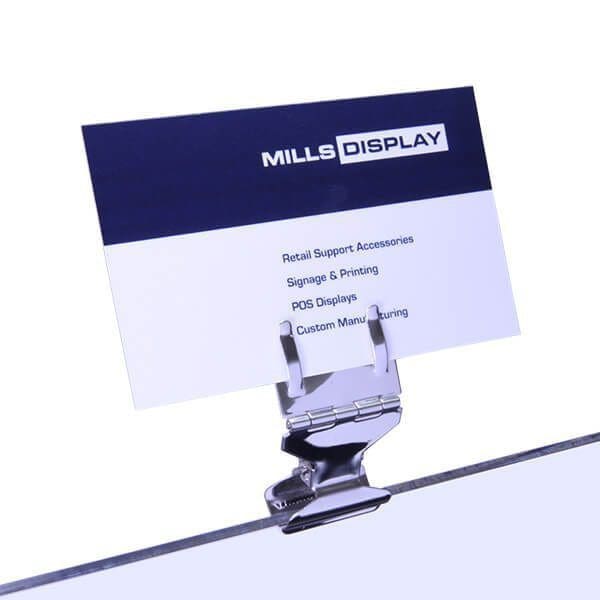 POP Clips
The range of P.O.P clips come in a range of colours, sizes, styles and adhesive methods. If you have a need to display labels or price tags, there is a POP clip that will work for your situation.
Mount your labels with clips that easily can be added or removed from shelves and containers easily. With no sticky foam or glue, you can remove and reattach in seconds. These are perfect for items that may occasionally move locations, or for free-standing bins. There are several sizes and types of clip-on label holders.
Magnetic-base clips are ideal for refrigerated containers, or anywhere with magnetic metal. Super easy to move around and remove as needed, these POP clips are the ultimate in versatility.
The double-ended 50mm clip has two clear plastic spring clips with a short 50mm rod. These clips attach to most bowls, trays and cardboard boxes. They are ideal for almost any retail situation, incredibly versatile and great to have in stock at all times.
For a more permanent solution, the POP Clip with an adhesive base is a good option. It uses foam tape to adhere strongly to almost any surface, including glass, metal and counter-tops. It's adjustable to swivel in any direction.
For another easy-care solution, plastic stands have wide bases for added stability. They come in a range of sizes and the added height places the price tickets at an easily visible height so your customers have all the information they need to make a purchase. Ideal for bins of clothing.
Look professional and increase sales
Every retail outlet can take advantage of the versatile range of label clips. Butchers, hair dressers, delis and food counters, art galleries or restaurants can all use these.
Mills Display are NZ owned and operated. We've been around for years, and our staff have an in depth understanding of the industry. As a result, our selection of products is broad—we know that not one size fits all.
Contact us to find out how we can help you. Our range is ever-changing, and if you have specific needs, we are happy to discuss them and see if we can accommodate you.