Brochure stand solution case study. Our Team of retail display professionals can help your business find the right product display solution. Call us or visit our showroom at 327A Neilson Street, Penrose in Auckland.
We work alongside many New Zealand businesses to create retail display, point of sale and merchandising products. Our retail display catalogues and website product range can offer practical information.
But nothing beats talking with one of our retail display professionals to discuss how we can help you.
Brochure stand solution case study situation
Catalogue Pole Stand solution needed – One of our customers who operate in the Retail environment approached us with a branding issue. The issue they had was that their current catalogue Pole Stand no longer fitted their brand colours. The solution not only needed to still be functional, it also had to fit seamlessly into the retail environment.
How we helped the customer find the best Brochure stand solution
We met with the customer to establish exactly what they wanted to achieve with the product and to understand how it would look in the retail environment.
The Pole Stand still needed to hold an acrylic catalogue holder but also fit the brand colours.
We were chosen to work with them as we could manufacture the stand and supply within their timeline.
The next step was to ensure the colouring matched with their new brand colours and was still functional.
After consulting with the client we managed to come up with a cost effective solution to their stand issue that also met their timeline.
The final outcome for this retail customer
The solution came in on budget and was delivered on time and in full. Our customer was then able to trial the Pole Stands in one of their key stores. The solution fitted in well with their new brand colours and still performed well as a catalogue holder. The plan is to now roll these stands out to the rest of the company's stores as the re-branding happens.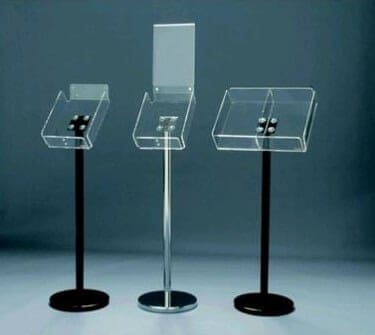 Enquire Now with Mills Display
If you want Mills Display to help your business get a unique look by sourcing the best retail display products from around the world, message or LiveChat us via the website or call us on 09 634 5962.
Follow us on Facebook and visit our Google My Business page for our latest products and NZ Retail updates. Also, take a look at our 8 innovative retail merchandise display ideas for you.
Contact Us
For any queries about our range of products or a custom manufacturing project, fill in the form below and we'll get back to you.